Who is Mr. Javier?
---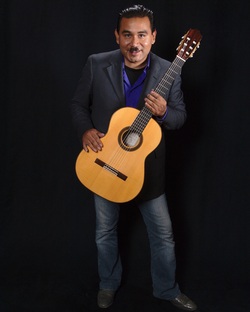 Javier Alcántara-Rojas, or Mr. Javier, as he is known to his students, has been a resident of the High Desert for 30 years. He was born in Mexico and came to America at six months old. Mr. Javier is a Music Educator, he works for the
Apple Valley Unified School District
. He is assigned to
Phoenix Academy
and
Granite Hills High School
. He attained his Bachelors in General Music Education, from Fresno State. His primary instrument is Guitar, with a focus on Flamenco Guitar, but he plays multiple instruments and sings. He completed his Credential Programs at the University of Redlands, School of Education. Mr. Javier also attained two Associates Degrees from Victor Valley Community College. He is strong believer and advocate for education and civics. He is a brother of
Phi Mu Alpha, Sinfonia
, national music fraternity.
Mr. Javier is published internationally by
CG Publishers
, The International Journal of the Humanities, 2011. He was a presenter at the American String Teachers Association (A.S.T.A.) National Conference, 2008. He has designed music programs in Salinas, Fresno, and Victorville. He completed translation for
Jose Antonio Rodriguez
in 2015. He holds multiple artist certificates from C.S.U. Summer Arts, Cordoba Guitar Festival and
Curso Flamenco
. He has traveled to England, Canada, Belgium, France, Italy, Mexico and Spain.
He gives free online guitar lessons at Flamenco Professor on
Youtube
. Dr. Whitehead and Javier are co-creators of Flamenco Professor. He enjoys choral singing. He has been a member of V.V.C. Master Arts Choral for nearly a decade. When he is not making, teaching, or writing about music, Mr. Javier enjoys exploring culinary treats from various locations - basically, he is a foodie! Korean B.B.Q. and Sushi are two of his favorites. Faith and family are his foundations.
---